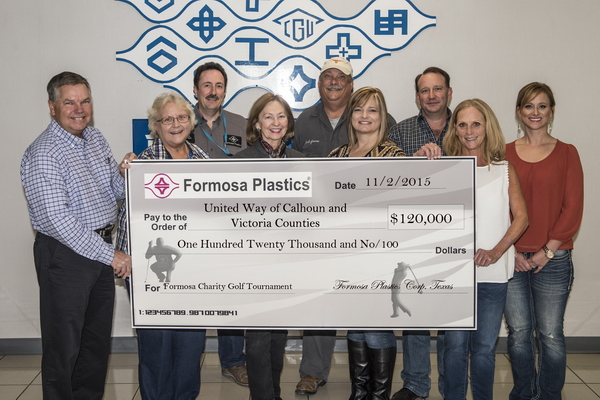 Each fall the site sponsors the Formosa Plastics United Way Golf Tournament. In 2015, the tournament raised $120,000 (photo at left) to support United Way efforts and programs in both Victoria and Calhoun Counties.
Our Point Comfort site consists of sixteen production units and a variety of support facilities at its nearly 2,500-acre petrochemical complex.
The site's initial VCM/PVC plant went online in 1983. An additional investment of $1.5 billion in 1994 added several more operating units -- Olefins, LLDPE, HDPE, Polypropylene, Chlor-alkali, Ethylene Dichloride, power co-generation (steam and electricity) and a new wastewater treatment facility. At the time, this expansion was the largest one-time, private investment in the state of Texas.
In 1998, the site initiated a second major expansion project. That $900 million investment added a second Olefins plant, a second HDPE plant and a second polypropylene plant. Environmental protection was an important factor in equipment design. While increasing production capacity by 60%, the site was able to continue operating under the same water permit restrictions granted in 1993. In addition, significant production expansions and upgrades were added in 2002. The site operates an extensive water-reuse program.
The new Specialty PVC production plant has started up and is being optimized. Also, the new Circulating Fluidized Bed (CFB) energy unit has started up and has been fully converted to clean-burning natural gas. The CFB plant is providing reliable, highly energy-efficiency steam and electricity.
Meanwhile, we've begun our next major production capacity expansion, which will add a third olefins unit, a propane dehydrogenation (PDH) unit, a LDPE resin plant, another HDPE resin plant and an additional polypropylene (PP) line.
In The Community
Formosa Plastics' Point Comfort site's employees contribute their time and resources to local education and community events, including school, civic, cultural, municipal, and youth programs. Some of these programs include: Boy Scouts, Calhoun County Chamber of Commerce, Calhoun County ISDPartners in Education, Girl Scouts, Lions Club, Rotary, South Texas Blood and Tissue Center, United Way and the YMCA.