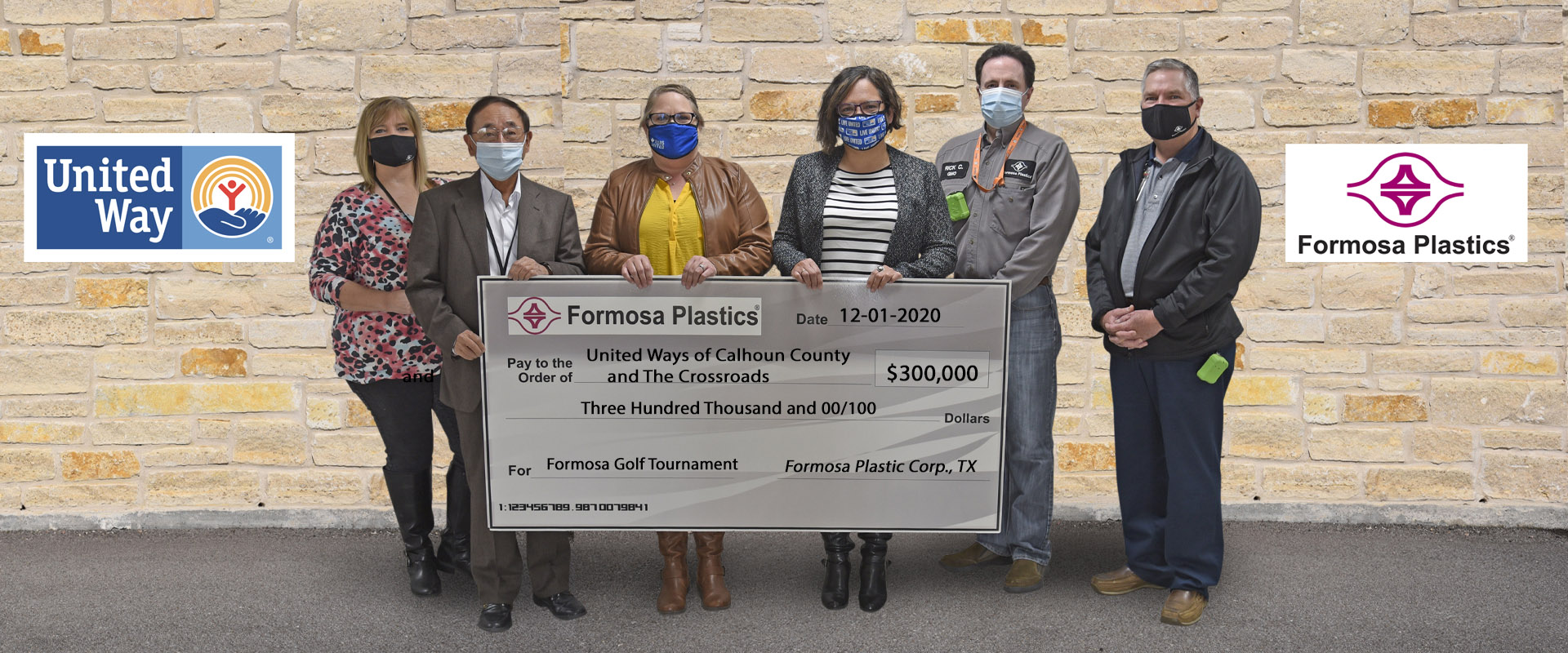 LIVE UNITED
2020 FORMOSA UNITED WAY GOLF TOURNAMENT - ANOTHER RECORD YEAR - $300,000 RAISED.
THANK YOU TO ALL OF OUR DIAMOND, PLATINUM, GOLD, SILVER & BRONZE SPONSORS, ALONG WITH EVERYONE THAT MADE IN-KIND DONATIONS.
DIAMOND SPONSORS - Advanced Cooling Towers, Allegiance Crane, Bay Ltd., Catamaran Solutions, Clark Constructors, Dimension Energy Services, Formosa Plastics Corporation, Great Rivers Industries, Palacios Marine & Industrial, Process Service Specialists, Rain For Rent, Richard Industrial Group, Testengeer/Taurus, Turn2 Specialty Companies, Turner Industries, Universal Plant Services, USA Technologies, Versa Integrity Group.
PLATINUM SPONSORS - Klean Corp International, Amerapex Corporation, Commercial Metals Co., Marquis Construction, MMR, Mobile Mini, PCL Industrial Construction Co., Pro-Surve Technical Services, LLC., RPM Services Inc.
GOLD SPONSORS - American Piping Products, ABB, Aqua Drill International, AWI, Blanchard Industrial, Brand Safway, Burrow Global LLC, Elliott Company, Katoen Natie, Mirage, Mohawk Field Services, Rexco, Team Incorporated, Thorpe Plant Services, United Rentals, Wison USA LLC, Wood Group.
SILVER SPONSORS - Aggreko, Alliance Source Testing, Armadillo Portable Toilets, Bilfinger Westcon, Momentum Rental & Sales, Ohmstede Ltd., Oliver Equipment Company, Peterson Beckner Industries Inc., Potent USA Corp., Reginal Steel Products, Suez WTS Services, Underground Services Markham, LLC.
BRONZE SPONSORS - Canteen Victoria, Civil Mechanical Inc., Coastal Bend Staffing, Crane, Dunavant Trans Gulf Transportation, EADS Distrubution, Flowserve, ioMosaic Corporation, Marquis Construction, National Tank & Equipment, New Distributing, PSS Industrial Group, Richard Industrial Group, Suez WTS, Tellepsen Industrial, Texas Stress Inc., TGE Industrial Services, Tidal Tank, TNT Crane, Turn 2, Versa Integrity Group, Wolfenson Electric.
HOLE SPONSORS - Allison Industrial Services, Able Tool & Rental, Apache Industrial Services, Brace Integrated Services, Code Red Safety, Horizon Environmental, Lance Rental, Repcon, Sunbelt Supply Co.
IN-KIND DONATIONS - Ganem & Kelly Surveying, Gaspar, Performance Contractors Inc,, Texas Stress, Gas Inovations.